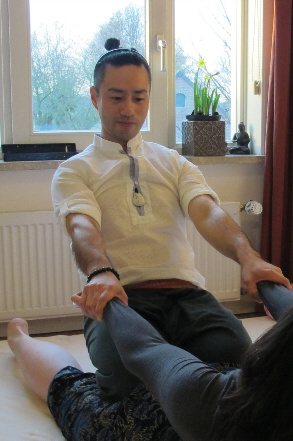 I am Yueh-Hsien (Jay) Chen, from Taiwan, just moved to the Netherlands in the early spring 2012. For some reasons, I have travelled around the world, but now, I settle down here and start devoting myself for this amazing energy healing and bodywork as my career.
Life is always full of surprises and we will have never known what is waiting for us at the next corner of the street until we reach there. Before I became a quallified Thai masseur and aromatherapist in 2011, I was studying for my master degree and PhD in immunology in the UK and did not even think of being a therapist as I am now. However, during the time of staying in England, I had an opportunity of discovering the spiritual realm when I was invited to join a Reiki meditation group on Wirral, North West England. That was the beginning of my findings that all matters are composed of energies in different densities as well as a human body. Some of the energies are densed enough to form atoms and all matters in our body, but the others are not and retain the primitive energy form. A human body is not just visible in the naked eye, but also the "energy bodies" inside and around the visible one. Since I learnt the technique of Reiki healing and practice it daily, my "High Sense Perception" (HSP, also called "the 6th sense") also have developed. I can feel how the energy flows and how it works on a human body, mind and spirit when I meditate, practice yoga or even give massages or Reiki healings to people. Massage is an art of healing for both of the giver and the receiver, particularly while both are willing to open to each other. Also, massage is a trigger to re-initiate the amazing power of self-healing in our own bodies and help people reconnect with the Earth energy and regain their health and balance.
Learning Thai massage and aromatherapy are two of the most pleasant experiences in my life because they both link to my personal interests. Thai massage technique is based on the knowledge of energy lines (called Sen Sib) and Yoga, which are related to my energy healing (Reiki) and Yoga practices done for years. On the other hand, aromatherapy corresponds to my interests in traditional herbal medicine and Swedish massage. Furthermore, I find out that both of the techniques are very good "mediums" for delivery of healing energy. Therefore, they are 2 of my most favour ways to share the power of love and my healing energy with others. When my palms touch the receiver, I feel the energies between me and her (or him) and we channel with each other. Each of the receivers has his (or her) own distinctive condition and energy so that the energy field built during the massage session is unique for each of times as well as the effects of treatment to each of them. My hope is for the people who come here for massage will not only receive what they want for body relaxation or replenishment, but also meet in needs of their bodies, minds, and souls. Wish you all meet the light and love within yourselves.
Namaste
Certified Diplomas:
RYT 500 hr Agama

Hatha Yoga Teacher Training Course (Upgrade from 200 hr Hatha Yoga Teacher Training Course) certified by Agama Yoga School, Koh Phangan, Thailand, April 2018

Advanced Tantra Massage Therapist 52 hrs Training Programme certified by Somananda Tantra School, Tallinn, Estonia, January 2018

Agama Hatha Yoga 200 hr Teacher Training Course certified by Agama Yoga School, Koh Phangan, Thailand, July 2017

Tantra Massage Therapist 85 hrs Training Programme certified by Somananda Tantra School, Tallinn, Estonia, January 2017

Jivamukti Yoga 300 hrs Teacher Training Programme certified by Jivamukti Yoga School, New York, May 2016

Intensive Professional Thai Massage (I5, Level 1-2-3-4-5) 150 hrs certified by Thai Massage School of Chiang Mai (TMC), 10 Oct 2014 (contiunation from Foundation of Thai Massage Level 1 30 hrs completed, 4 Sept 2011)

Thai Table Massage 12 hrs certified by Thai Massage School of Chiang Mai (TMC), 14 Sept 2014




Thai Foot Massage (Reflexology) 12 hrs certified by Thai Massage School of Chiang Mai (TMC), 4 Dec 2011

Foundation of Thai Massage (Level 1) 30 hrs plus 100 hrs practicals certified by Thai Massage School of Chiang Mai (TMC), 4 Sept 2011

Mantra Thai Hand Reflexology Massage 12 hours certified by International Training Massage School (ITM), 5 Oct 2014

Aromatherapy Course of International Council of Intergrative Medicine (ICIM) 100 hrs certified by International Association of Aromatherapy (IAA), March 2012

Reiki Level 1 in the Usui System of Natural Healing certified by Sylvia Bate - Reiki Master, Sept 2006

Reiki Level 2 attendee (diploma uncertified)

Degree of Master of Science (Human Immunity) certified by Faculty of Medicine, The University of Liverpool, Dec 2005